Joined

Sep 13, 2018
Messages

4
Hello, Im 24 years old civilian finishing university in may next year. Im looking to change my life since i hate the position im in now.
After graduation i would like to join the Czech special forces support group ( CPSS - Centrum podpory speciálnich sil ). From what i know i could go for selection in 8-10 months from now.
I would like to find somebody to mentor me on fitness and mental and maybe some other skills i would need. Ideally the whole time.
I have only 3 entries into the selection for my whole life and i dont want to blow it off.
I promise to try my best and send a lot of czech snacks and booze in return.
Here i link some info.
Official SF eng page:
Czech Republic SOF
(doesnt say much )
Official Support group page in czech:
Centrum podpory speciálních sil plukovníka Josefa Černoty
Wikipedia page in czech:
Speciální síly Armády České republiky – Wikipedie
TLDR: Small Czech SF unit doing QRF,Security, Fires support for 601.SFG and also doing offensive operations, special recon and psyops on its own.
Selection:
First you attend battery of PT tests and mental and psychological tests. If you are sucessful you are invited to selection course wich is 3days but from what i heard (yeah reliable source :) ) its very tough.
After that you go through 1 year SF school in wich abcout 50% of candidates fails.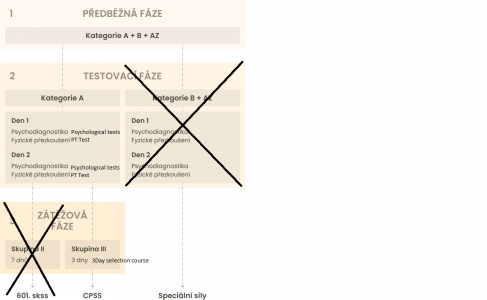 PT Test:
Basic entry test consist of Push ups, sit ups, pull ups cooper run and swim. I attached it below.

Secondary agility test: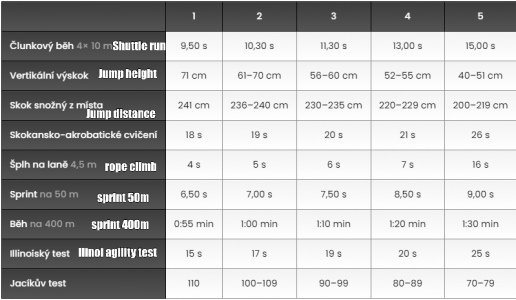 The 2 untranslated test are agility test that are i believe special for this unit and ill explain them to you if you are interested.
I think this is the basic info you guys would need. In case its not wrote it below and ill try my best to answer.
Thank you guys for reading ill be gratefull for any advices and replies.
Cheers!