running up that hill
Member
Joined

Jan 3, 2007
Messages

3,865
Location
http://www.jpost.com/servlet/Satellite?cid=1215331170727&pagename=JPost/JPArticle/ShowFull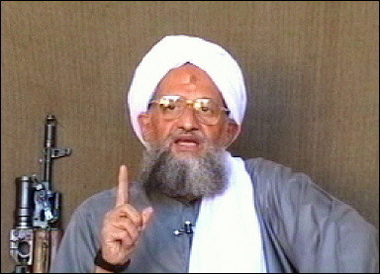 Osama bin Laden's second in command Ayman al-Zawahiri may be critically wounded or dead, CBS News reported on Saturday.
CBS said it had obtained a copy of an intercepted letter from Pakistani sources, in which a doctor is urgently requested to treat the al-Qaida leader.
Al-Zawahiri, who is thought to be in a remote location in Pakistan, was said to be in "severe pain" and his injuries were reportedly infected.
The letter was signed by Baitullah Mehsud, a local Taliban leader, whose seal on the letter was said by experts to be legitimate. It is dated July 29 - a day after al-Qaida weapons expert Abu Khabab al-Masri was reportedly killed in a US missile strike.
While American authorities said they did not know if al-Zawahiri was present during the attack, US officials told CBS that they were investigating reports that he had been killed