They call me Mr Sunshine
Verified Military
Joined

Aug 14, 2006
Messages

4,573
Location
http://news.bbc.co.uk/2/hi/americas/6266165.stm
Colombian 'drugs baron' captured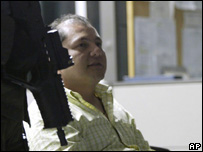 Eugenio Montoya rejects the accusations

Police have captured a suspected top member of Colombia's biggest drug cartel, following a shoot-out.
Eugenio Montoya, who also is known as Don Hugo, is alleged to be a leader of the Norte del Valle group. He denies being a drug trafficker.
The FBI lists the group as the most powerful and violent drug-trafficking organisation in Colombia.
Mr Montoya's capture has ended a lengthy manhunt in which the US had offered a $5m reward for his arrest.
He was captured in one of the Norte del Valle's strongholds, the town of El Dovio, 200km (125 miles) west of the capital Bogota. Police say no-one was injured in the shoot-out.
In a news conference, Mr Montoya was presented to journalists, surrounded by heavily-armed police.
He denied being a drug trafficker and said he was there to resolve his situation.
Most-wanted
Officials in Colombia say the Norte del Valle cartel became the country's most powerful after the dismantling of the Medellin and Cali cartels in the 1980s and early 90s.
It is believed to be responsible for as much as 30% of the more than 500 metric tons of Colombian cocaine smuggled each year to the US. The cartel is accused of having worked with right-wing death squads to protect its valuable drug routes. Norte del Valle is alleged to be jointly run by Eugenio's brother Diego, who sits alongside Osama Bin Laden on the FBI's most-wanted list.