running up that hill
Member
Joined

Jan 3, 2007
Messages

3,865
Location
http://www.army.mil/-news/2010/10/21/46948-night-stalkers-awarded-at-hunter/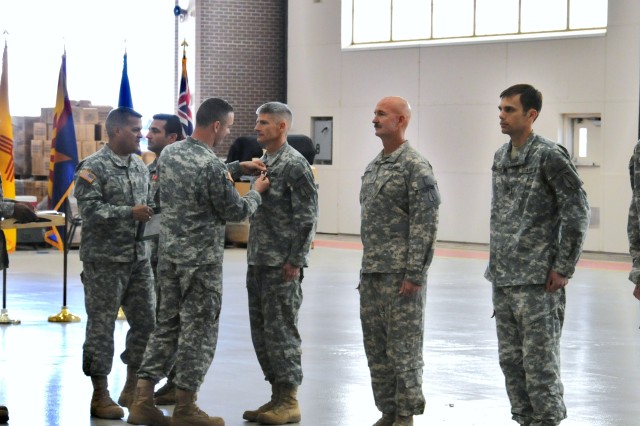 FORT STEWART, Ga. - Lieutenant Colonel Kirk Keepers became emotional when he talked about Soldiers in the 3rd Battalion, 160th Special Operations Aviation Regiment, and the performance that earned seven of them prestigious awards, Oct. 15. He addressed the seven Night Stalkers, along with other military and civilians attendees, at an award ceremony in the 3/160th SOAR hanger, recognizing their fearless actions and superb performance during recent overseas contingency operations.
"I have been given exceptional Soldiers," said Lt. Col. Keepers, commander, 3/160th SOAR. "Their strength of character and courage in defense of this great nation reflects all special operations Soldiers who work hard and are willing to put themselves in harm's way every day and night."
The award recipients at the event included Chief Warrant Officer Timothy Denton, who received the Distinguished Flying Cross; Chief Warrant Officer Roberto Villarreal, who received the Bronze Star Medal; Master Sgt. James Weems, who received the Meritorious Service Medal; and Master Sgt. James Weems, who also received the Meritorious Service Medal.
Awardees of the Air Medal with "V" Device included Chief Warrant Officer Kevin Purdum, Sgt. Travis Walker, Sgt. Lance Singleton and Spc. Bradley Weaver.
Because of frequent deployments, a few medals were earned during previous deployments, but the award ceremony was held at a convenient time when all Soldiers could attend.
"No one asked, 'where is my award?'" said Lt. Col. Keeper. "What's important to these Soldiers is getting things done. They are selfless troops."
Chief Warrant Officer Denton, a pilot, knows that duty is more important than recognition. He has focused on the mission throughout his 23 years of military service. Since 1998, his focus has been exclusively on the mission of the Night Stalkers. He received the Distinguished Flying Cross Medal for his heroic performance in the latest operation in Afghanistan when he led a flight to pick up ground troops while under intense enemy fire. He guided his unit to safety with only damages to his aircraft.
Chief Warrant Officer Denton was modest about his award. Instead of receiving recognition for himself, he gave it to his team.
"Everything we do is collective," he said. "It's hard to praise just one individual on any mission because what we do requires a team effort. You train hard as a team, and you work hard as a team. I thank my commander for honoring all of us today."
Specialist Weaver, a crew chief, briefly described the treacherous rescue mission for which he was awarded.
"I guided the pilot of a 100-foot aircraft to safety on a mountain under enemy fire," he said. "We were not able to put all wheels on the ground, so we had to work it out with just one."
Specialist Bradley said he's always wanted to be Night Stalker; now he's living the dream.
"I joined Night Stalker to follow in my father's footsteps," he said, adding that his father retired from the battalion in November. "I understood the challenges of the lifestyle but it's what I wanted. When my Dad left for months at a time I always wanted to know where he went and what he did. That's why I volunteered. I'm 100-percent satisfied with that decision."
Lieutenant Colonel Keeper said that throughout history the battalion has supported special operations around the world in a range of environments. He said the 3/160th SOAR will continue to fight and will always be prepared to succeed at their next mission.