Joined

Nov 8, 2007
Messages

1,496
Location
Paratrooper to get Medal of Honor for actions in Afghanistan

(CNN)

-- An Army paratrooper who risked his life to save fellow soldiers will become the first living service member to receive the Medal of Honor for service in Iraq or Afghanistan, the White House said Friday.

Staff Sgt. Salvatore Giunta, 25, will receive the honor for "acts of gallantry at the risk of his life" during combat in Afghanistan in October 2007, the White House said in a written statement.

President Barack Obama called Giunta, a native of Hiawatha, Iowa, on Thursday to inform him of the honor and to thank him for "extraordinary bravery in battle," the statement said. Giunta will receive the medal at a later date.

On Thursday, the White House announced that Obama will award the Medal of Honor posthumously to U.S. Army Staff Sgt. Robert J. Miller for "conspicuous gallantry" and "heroic actions" in Afghanistan in January 2008. Miller sacrificed his life "to save the lives of his teammates and 15 Afghanistan National Army soldiers," the White House said.

The White House announced last week that Obama also intends to award the Medal of Honor to Air Force Chief Master Sgt. Richard Etchberger for his valor in saving the lives of three wounded comrades at a then-secret base in Laos in 1968. Enemy fighters shot and killed Etchberger after he saved his fellow airmen.

Giunta was an Army specialist and rifle team leader with Company B, 2nd Battalion (Airborne), 503rd Infantry Regiment when an insurgent ambush split his squad into two groups on October 25, 2007, the White House statement said.

He "exposed himself to enemy fire to pull a comrade back to cover," it said.

"Later, while engaging the enemy and attempting to link up with the rest of his squad, Specialist Giunta noticed two insurgents carrying away a fellow soldier," the statement said. "He immediately engaged the enemy, killing one and wounding the other, and provided medical aid to his wounded comrade while the rest of his squad caught up and provided security."

Fewer than 3,500 Medals of Honor have been awarded since the medal was established during the Civil War.

Giunta, who was recently married, is currently with the 2nd Battalion, 503rd Infantry based in Vicenza, Italy. "He is responsible for the health, morale, welfare, training and accountability of all assigned personnel," the Army said. He has served two combat tours in Afghanistan.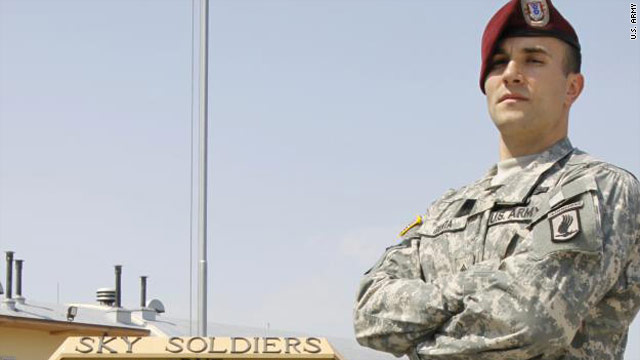 http://www.cnn.com/2010/POLITICS/09/10/medal.of.honor.recipient/index.html?hpt=T2
Well done Paratrooper!