running up that hill
Member
Joined

Jan 3, 2007
Messages

3,865
Location
http://hamptonroads.com/2009/01/smallboat-sailors-little-creek-wave-change
In more peaceful times, the mission for special warfare boat crews was clear and simple.
They drove small, fast boats and covertly delivered Navy SEALs onto foreign shores.
W ith SEALs now fighting in Middle Eastern deserts and mountains, however, hundreds of small-boat sailors drifted from their core mission. About a year ago, some Virginia Beach-based sailors were a few ticks away from beaching their boats and becoming combat truck drivers for special forces.
"It would have been revolutionary," said Capt. Chuck Wolf, commodore of Naval Special Warfare Group 4.
Security improvements in Iraq eliminated the need for that change. But like many Navy commands, the small special boat community, headquartered at Little Creek Naval Amphibious Base, has adapted and taken on new roles.
That's brought the small-boat crews - known as Special Warfare Combatant Craft units, or SWCCs - to new missions around the world and made them more independent from SEAL teams, Wolf said.
Among the new responsibilities: driving Humvees, protecting land convoys and leading riverine training for small foreign navies. Teams also deployed to the Gulf Coast during hurricanes Katrina and Ike to support homeland security and relief efforts.
The community traces its roots to patrol craft in World War II.
Chief Warrant Officer 2 Justin Ackerman, 35, who has been in the community about 17 years, said the force is more professional today. At one time, sailors rotated through the community and back into the big fleet. Sailors can now spend their entire careers in special warfare crafts.
The small crews, typically seven men in two boats, are taught every job on a boat and must remain flexible, he said. The cross-training has served them well on recent deployments. "You just train to it and do it," he said.
The Navy has bolstered its riverine capacity by establishing three riverine squadrons under the Naval Expeditionary Combat Command. But the SWCC teams remain the special warfare community's delivery and support force.
Wolf, a SEAL, took over the command in October. A native of Southern California, Wolf surfs big waves and lives on his sailboat near Little Creek. He occasionally swims the one-mile commute to work.
He said the community is looking for sailors with a can-do, energetic attitude.
The force has grown by about one-third, to 600 sailors, since 2001. Retention has risen from 69 percent to 84 percent since 2006. By comparison, the entire Navy has a retention rate of about 58 percent, according to the most recent personnel statistics.
With SEALs needed for combat missions, small-boat drivers have taken over some jobs formerly done by SEALs, such as helping countries in Africa and Asia develop their navies and river security forces. They have assumed humanitarian missions, Wolf said, and once delivered snake antivenom to a remote African village.
The command has made steady deployments to Iraq. It has people on the ground in the southern city of Basra, a vital commercial port with a series of canals.
The crews deliver special forces from the Army and Navy along rivers and other waterways. The waters have not been mined and are safer than the Iraqi roads spiked with improvised bombs. "It gave us a real advantage," Wolf said.
Combat medic Bruce Cypert, a petty officer first class, has deployed four times in five years. He spent six months in Iraq in 2007, performing mostly night operations with special warfare troops.
Cypert, 26, had wanted to go to combat since he joined the Navy in 2002. The desert deployment took the sailors out of their comfort zone, he said. They often worked without SEALs on convoys and performed security while transporting boats and equipment over land. "It's hot; it's miserable. There's dust in your mouth," he said. "It was definitely intense."
He added, "We're not really land guys. We're water guys."
Wolf said one of his biggest jobs for the next two years is to choose new boats to replace the rigid-hull and Mark V boats in their fleet.
"We're committed where we need to be committed," he said - a hint that the SWCCs' future is still in the water.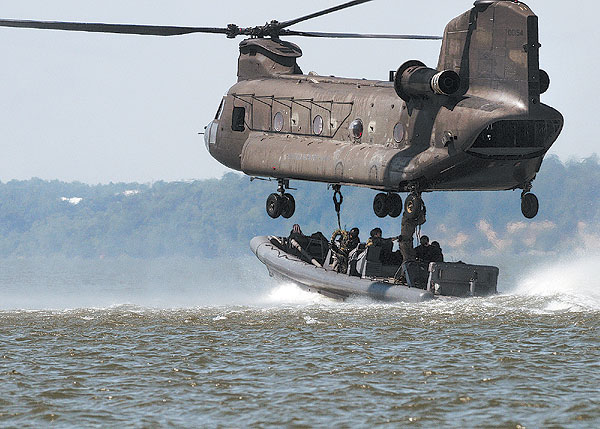 A Navy small-boat team attaches a craft to a Chinook helicopter. (Navy file photo)