Joined

Jul 22, 2008
Messages

1,068
LONDON — John McAleese, the special forces soldier who led the dramatic raid that ended the 1980 Iranian embassy seige in London has died, government ministries said Sunday.
A no-nonsense Scot with a giant drooping moustache, "Mac", who was in his early 60s, died on Friday in Thessaloniki in Greece.

His son Serjeant Paul McAleese, 29, was killed by a roadside bomb in Afghanistan two years ago as he tried to help a fatally injured comrade. Mac's daughter said he never got over the loss.
"We can confirm the death of Mr McAleese in Greece on August 26 and are providing assistance to his next of kin at this difficult time," a Foreign Office spokesman said.

A Ministry of Defence spokesman said: "We are aware of the death of John McAleese, a hero who served his country bravely and professionally in a military career that spanned many years.
"Our thoughts are with his family and friends."

McAleese's daughter Hayley, 28, said the former Special Air Service (SAS) sergeant never got over the death of his son.

"I am sure the grief and stress he had suffered had a bearing on what has happened," she told reporters.

"He is now reunited with his son. Two great heroes taking their place in heaven."

McAleese spent 23 years in the army, including 17 in the SAS.

In one of the defining events of the decade in Britain, millions watched live on television as McAleese and his team, dressed head to toe in black, stormed the Iranian embassy to end a six-day siege.

Six armed Iranian separatists had taken over the plush 16 Prince's Gate mission, taking 26 people hostage.

Five were released in exchange for minor concessions, but on the sixth day, they killed one hostage and threw his body out the front door.

On prime minister Margaret Thatcher's orders, the SAS went in, abseiling from the roof, blowing out the windows in a huge explosion and storming inside.

They rescued all but one of the remaining hostages and killed five of the six separatists.

The only gunman to survive concealed himself among the hostages. Once identified by a freed captive, some reports suggest the SAS were prepared to shoot him dead on the spot. He served 27 years in a jail.
Another source:
http://www.bbc.co.uk/news/uk-14697819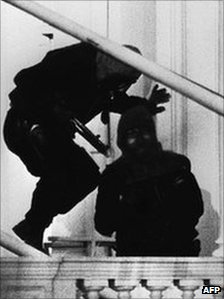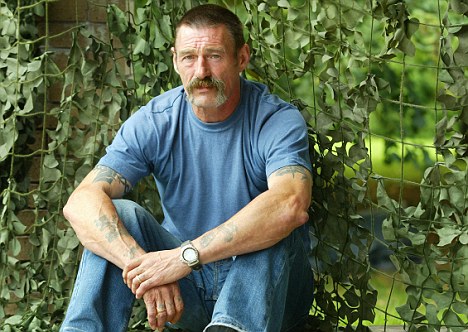 RIP, John.